and as I was travelling I realized there were no boundaries
In der Videoarbeit "getting closer, almost there" wird eine Autobahnfahrt dokumentiert. Die 3 Blickachsen sind panoramatisch angeordnet und zeigen sowohl den Fahrer und Beifahrer, als auch die vorbeiziehende Landschaft.
Die über Einzelbilder hergestellte Bewegungssequenzen sind in verschiedenen Tempos geschnitten und verweben die Zeit und Blickachsen zu einer poetischen Momentaufnahme, was durch den kontemplativen Soundtrack unterstrichen wird.
Die Stapelartig montierten Einzelbilder werden im Laufe der Videosequenz von oben nach unten "abgearbeitet". Durch die Gleichförmigkeit der Landschaft, die Ähnlichkeit der vorbeifahrenden Autos wird die Geschwindigkeit der Fahrt in eine eigentümliche Zeitlichkeit gerückt. Der gestaffelt dargestellte Raum oszilliert zwischen Bewegung und Stillstand.
Die Beschreibung dieser Fahrt wird zur Atmosphäre und über die Montage zu einer Spurensuche nach Vergänglichkeit und dem Moment. Der Weg ist das Ziel.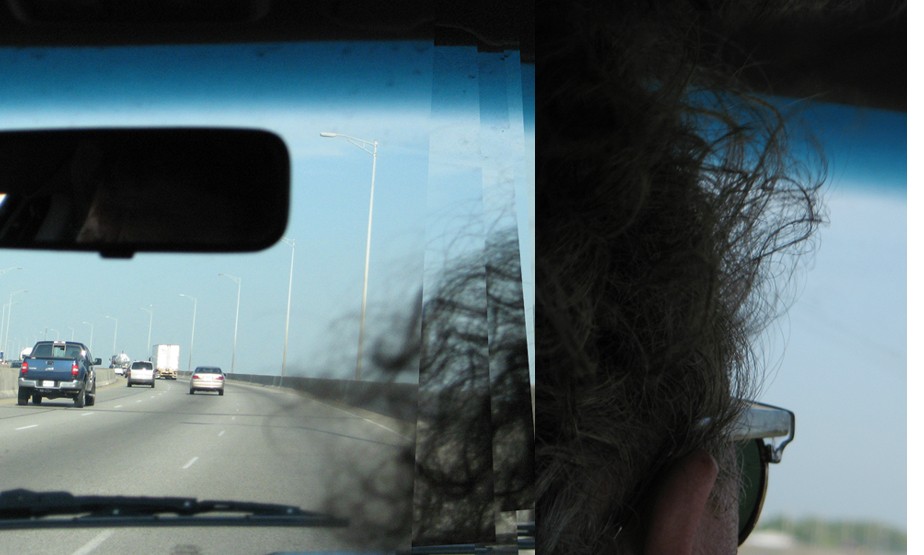 This video documents a drive on a highway from the perspective of the rear seat. The 3 view axis are arranged in a panorama view. One scenery shows the driver , the second shows the highway, the third gaze watches the fellow passenger.
The 3 moving sequences were arranged in photoshop and then rendered to a film in which each part has a different timing. Time and viewing axes are thus woven together into a poetic moment, underlined by a repetitive soundtrack.
The single shots are arranged in photoshop layers as if they were lying on each other and the movement is created by dissolving one after the other.
The uniformity of the landscape and the similarity of the passing cars creates a unique feeling of motion. The staggered depiction of space oscillates between movement and standing still.
The description of this drive becomes atmosphere and is meant as a reflection of the transience and momentariness of perception.
Sound: Matthias Strohmaier www.hostbuster.at
---